HOSS SEEDER TEST Cont....
Radish:
Once again it is really uniform and pretty great performance.
Chiogga Beet:
There's always going to be a lemon in the bunch and this was definetly it. the seed is shaped like tiny little maces and they varied in sizes wildly from 1/8" to 1/16" so I reall didn't expect too much, it is still better than I can do by hand, but thinning will be required.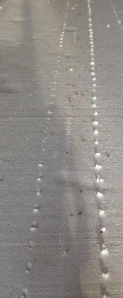 I think if the seed were sifted to get better uniformity it would do better, but for now this is what I got.
Kale Low Tunnel Test:
I planted 3 types of kale in my low tunnels over the last 2 days, here are my observations. I'll update when it germinates.
Johnny seeds Toscano:
(Dinosaur Kale)
I plant alot of this, it is popular and the seed is cheap. This seed is not sorted but worked wonderfully out of the seeder and was very uniform with no stuck seeds when tested through the seeder plate.
Plate #1 was used.
Johnnys Winterbor:
A good cold weather kale, was just too big for the #1 plate and just too small for the #7 plate. I used the #7 plate and expect some double or triple drops but won't know for sure until it comes up. This seed is pricey so I will probably make a custom plate for it and the twilleys red Kale seed.
Johnnys Starbor Kale:
This kale is sorted and ran prefectly in Plate #1, this kale is really uniform, awsome seed.
Twilleys Red Russian Kale:
This seed varied wildly in size some seed over twice the size of others. I plugged the arbor hole of the seed plate and used it like a sifter in order to keep it from getting plugged. The over sized seed that got stuck in sifting got tossed, I could have used them in plate #7 I suppose. Used plate #1 after sifting.
Here I am seeding kale before I bend the hoops over.
To puchase Hoss seeder just call or email us and we will send out an invoice to you. We accept PayPal!
Email: russellsproduce@gmail.com
Phone#: 701-520-8528